Introducing two exceptional baby monitors that provide peace of mind and convenience for parents. Whether you prefer a video monitor or a simple audio monitor, we have you covered.
Choose the monitor that suits your preferences and rest easy knowing you have reliable monitoring capabilities to ensure your little one's safety and well-being.
My Top Recommended Baby Monitors
VAVA 720P Video Baby Monitor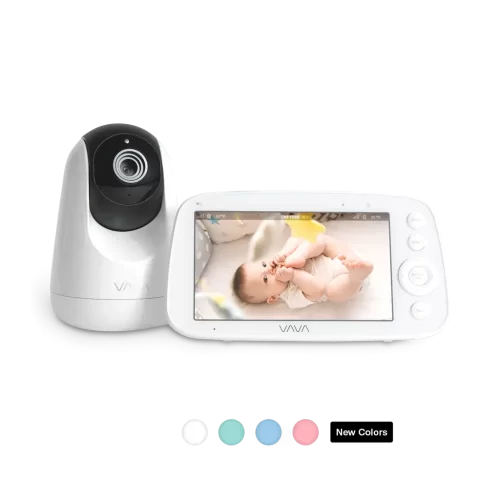 Shopping for a baby monitor can be tough, with so many options on the market! The first decision you have to make is whether you're looking for a video monitor (so you can see your little one), or simply sound only. If you are looking for a video monitor, then the VAVA 720P Video Baby Monitor comes highly recommended.
The camera is really high quality and moves with ease, so you can check on your little one even if they have rolled into a corner to snuggle up for sleep. It has great reception and a decent battery life, which means you can keep it with you wherever you are in the house and still be able to check on your bub. You can have multiple monitors linked to one screen (up to four), so if more babies come along in the future, you aren't carting around four different monitors to check on them! One of the best features of the VAVA 720P Video Baby Monitor, it can't be linked to Wifi for privacy/security reasons.
VTech BM2150 Digital Audio Baby Monitor
If you're after a simple audio monitor, then I'm a huge fan of this simple yet reliable monitor – the VTech BM2150 Digital Audio Baby Monitor – which encourages you just to LISTEN! I spend so much time with my family talking about the importance of listening to their baby. This monitor got through the thickest of walls back home in some very old houses. It can actually be beneficial not to be able to see your baby on the camera. No more rushing in the moment you need them to move. No more staring and watching them sleep. Take some time for yourself and listen to your baby instead.
The VTech BM2150 Digital Audio Baby Monitor also acts as a night light, tells you the temperature of the room, plays a tune and offers two-way audio communication. The perfect peace of mind for a good night's sleep.T