Introducing a selection of baby sleep essentials that provide comfort, convenience, and peace of mind for both you and your little one. These carefully chosen products are designed to cater to the evolving needs of your growing baby, ensuring a restful and secure sleep environment.
Invest in these essential baby sleep products to create a nurturing and soothing sleep environment, ensuring your little one enjoys peaceful nights and restful sleep.
My Top Recommended Baby Sleep Wear Products
Aden and Anais – Muslin wrap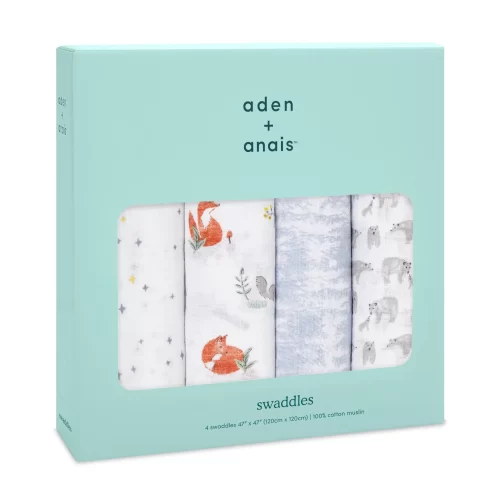 Superbly soft and breathable, this comfy muslin wrap is just perfect for snuggling up with your little one at any point throughout the day and makes a practical accompaniment to your baby's wardrobe. Lull your precious bundle into a deep sleep with a swaddle that isn't too tight and keeps the startle reflex at bay. They'll be able to enjoy a peaceful slumber with their hands securely tucked away under layers of comfort around the clock.
Made from 100% cotton, this quality fabric is light and breathable and has been a favourite over the years. It also brings with it a large degree of versatility to see you through the intricate newborn and baby days. Use it as a burp cloth to protect your clothes, or throw it over as a nursing cover for feeding on the go. Practical, comfortable and breathable, while also staying super soft wash after wash.
There is no greater pleasure in life than watching your gorgeous bundle grow. Once the swaddling days are a thing of the past, the Ergopouch Sleeping Bag offers up the ideal arms-out sleeping solution. No more stressing about layers and blankets in the cool winter nights, or how to keep your baby or toddler comfortable when the heat of summer hits. These TOG-rated bags are designed with your little one's comfort in mind.
Made from soft, stretchy GOTS certified organic cotton, the bell-shaped bottom of the bag promotes healthy hip joint development, allowing your little one to move freely while they sleep. You will also find the traditional newborn arms-in sleeping bags in their extensive range, covering all the way to apparel for six-year-olds – including long-sleeve baby sleeping bags and sleeping bags for every climate.
Ergopouch - Sleep Suit Bag
It's amazing just how much our babies learn and grow in those first few precious months. I found these sleep suits worked a treat when my little ones reached around 6 months old, when they started to get more active in the cot. They allow for your baby or toddler to position themselves with more ease and more independence.
With the blink of an eye your perfect little newborn bundle is suddenly on their own two feet, dashing around. Time is a thief. This practical sleep suit serves a dual purpose, converting from bag to legs for added adventure. By the time they reach that precious toddler stage, they'll be able to climb into their own toddler bed with ease and independence, with handy grip pads on the feet to keep them stable as they explore the word. Each one is TOG-rated to help regulate your little one's temperature no matter the season for a comfortable and restful night's sleep for all.