Bet all you parents out there found that too, so much change in so little time. It won't be long before it's her first birthday!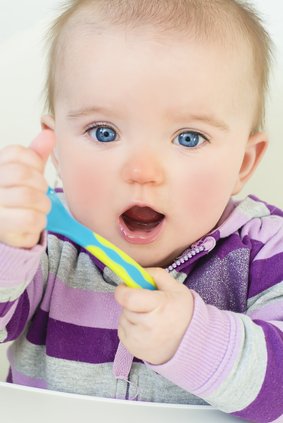 Wow! We have reached this milestone and what a change in our baby!
Week 21 – Loving Bath time
Zoe is really interested in her bath time book! She loves sucking it and turning the pages. She now lies down in the big bath, we have taken her out of the baby bath and I support her head with one hand. I fill the bath up with a small amount of water, she loves to kick her legs and lifts her legs right up in the air to touch her toes and then kick them down making a big splash! I also hold her up to standing as she loves to kick her toes in the water and we sing a special song together to finish! She always smiles at this point when she hears the tune!
Week 22 – Building Up Solids & Weaning
I have been giving her baby rice in the morning and vegetable/fruit puree now at lunch and dinner. The Health Visitors have advised that I plough on now with the solids and soon introduce dairy and meat, giving her more lumpy foods also.
I keep a list of what I have tried and any side effects – also a to try list.
I keep on trying with foods even if she isn't keen as often the second time trying it she likes it!
Going to wait till she is 6 months to introduce meat but will start to put cows milk in her breakfast and in her other meals from now on.
Week 23  – Her First Tooth
Now I understand after all these years hearing parents complain about their little ones teething, going on about how they have been up all night and how their child becomes ever so distraught with this process. Now, I understand, now I can relate!
Poor little Zoe has been a different baby, whingy, clingy and not sleeping well in the day. Thankfully hasn't affected her nights too much.
Easing the discomfort with teethers, bonjela and a frozen facecloth. Have also bought some teething granules, though haven't used yet.
Anyone got any other suggestions?
And the thing is these little buggers can take weeks to come through!!
Not fun for anyone. She gnaws on her fists, dribbles, has little spurts of screaming in pain, and her cheeks are sometimes red.
After two weeks, we have glimpsed her first tooth! Amazing! What a hard time it has been getting it! And so many more to come L Though the say the first two are the worst, fingers crossed!
Week 24 – Her First Family Holiday
This week we went on our first holiday with Zoe.
This will be her second flight. Previously one who thought you don't need much for babies….well, I am mistaken…how much stuff do these little people need!!
If you are looking for a list of what to take – check out this Babycentre packing checklist which is very useful

Our precious little girl is now 6 months…can't quite believe it!
If you had to choose one moment over the last 6 months what would it be?
Please share it with us….
My special moment would be the birth – seeing Zoe for the first time and then holding her whilst my husband sat by us. It was a magical moment and we both shed a few tears thinking back on it!
Related Tag:- Online Baby Sleep Consultant