So how do you choose the best baby sleeping baby for your infant? I've mentioned them a few times and they regularly come up in conversation when I'm chatting with parents about supporting their babies sleep and transitions.
Do You Need Help With Your Baby Or Toddlers Sleep?
I am a highly experienced baby sleep consultant with a unique educational and healthcare background.
Click Below NOW to book in a free chat with me I would love to see how I can help!
I get lots of questions about the best baby sleeping bag for different ages, so I thought, what better way to share what I've learned through my work than in one handy blog – let's dive in!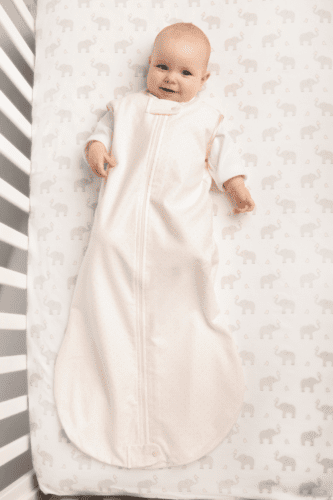 What are the benefits of sleep bags for babies?
A baby sleeping bag is a wearable blanket that will keep your baby at a comfortable body temperature throughout the night, helping them have a secure and restful sleep.
There are many benefits to using a baby sleeping bag, including:
They aid safe sleep associations
Getting your baby into a soothing routine is vital for a successful sleep regime. Using a baby sleeping bag can help you achieve this.
They help your baby regulate their body temperature
Infant sleeping bags come with Thermal Overall Grade (TOG) ratings to help your baby warm in the cooler months and on cold nights, and cooler in the warmer months on those hot nights – which can further aid a peaceful sleep!
They help to control your baby's startle reflex
Newborn sleeping bags keep your baby's arms tucked in safe, which can prevent their innate startle reflex from waking them up in the night.
They help to reduce several risks associated with SUDI – Sudden Infant Death Syndrome
Baby sleeping bags keep your baby safe and secure, laying on their back, with no head coverings or blankets to get in the way – all factors associated with SUDI (Sudden Unexpected Deaths in Infants). Remember to always follow the Red Nose Guidelines here
What to Look For When Choosing the Best Baby Sleeping Bag
When choosing the best baby sleeping bag, there are a few different things to take into consideration:
Constructed in a way so your baby cannot slip down inside: Your baby sleeping bag should always have armholes that sit securely around your baby's arms and shoulders. This will prevent them from slipping down inside the bag.
Should be the correct size for the baby with a fitted neck and no hood: Your baby's head and neck need to fit comfortably outside the sleeping bag, with no hood or material that could cover their face or get wrapped around their neck.
The TOG should be appropriate for the current climate
TOG stands for Thermal Overall Grade, which relates to how much warmth the sleepsuit provides. TOG is a unit of measurement, and the higher the number, the warmer the suit will be. When selecting the right suit for summer or winter, for example, a sleeping bag in the summer months should have a TOG rating of 1.0 strength. A sleeping bag for winter months should have a TOG rating of 3.5 strength.
Comfort, flexibility and durability
Check the material of the sleeping bag and make sure it's comfortable, organic where possible and account for any allergens your baby may have. A double-ended zipper can speed things up for when you want to do a quick nappy change. High-quality natural fabrics and designs will also have more durability when faced with a few repeated washes through the machine!
How Baby Sleeping Bags Can Aid Sleep Transitions
Many baby sleeping bags offer a transitional system with 'wings' where you can transition your baby's arms from being swaddled inside the bag to outside the bag in stages. This usually involves leaving one arm out first and then both arms once your baby has adjusted.
Do You Need Help With Your Baby Or Toddlers Sleep?
I am a highly experienced baby sleep consultant with a unique educational and healthcare background.
Click Below NOW to book in a free chat with me I would love to see how I can help!
Transitioning your baby in this way helps them get used to the feeling of their arms outside of a swaddle while still feeling safe and secure within their sleeping bag.
When your baby feels safe and secure in this way, they're much less likely to wake and seek comfort from you.
I've previously written about transitioning your baby from swaddle to sleeping bag and the step by step process you need to follow so take a look.
Baby Sleepsuits vs Baby Sleep Bags: What's the Difference?
When your baby starts to get more mobile, from around six months old, it may be worth exploring a baby sleeping bag that also has legs, often referred to as a baby sleepsuit.
Baby sleepsuits help your baby find their comfortable sleep position without as much assistance and intervention from you. As babies have delicate skin this is very important.
As your baby starts to roll and explore movements during settling and sleep, a baby sleepsuit may allow for them to move more freely rather than a sleeping bag.
Baby sleepsuits are perfect for toddlers who are walking and pre-schoolers transitioning to a big bed.
Did You Know? Baby's who suffer from hip dysplasia can also benefit from baby sleeping bags.
Hip dysplasia is one of the most common birth abnormalities globally, affecting 1 in 6 full-term newborns – on average, eight babies a day are diagnosed with some hip instability in Australia alone.
Whilst common – and highly treatable – it's essential to get diagnosed early on so you can support your baby's development. Mild to moderate diagnosed babies may be required to wear a hip brace that can impact their sleep.
ErgoPouch Australia has developed a unique baby sleeping bag to support babies diagnosed with hip dysplasia – their Hip Harness Cocoon Swaddle Bag or Hip Harness Jersey Sleeping Bag. Both of these options have been tailored to help babies with hip dysplasia and ensure they get the peaceful night sleep they need!
My 3 Recommended Best Baby Sleeping Bags
There are quite a few products in the market for baby sleeping bags, and while I recommend you do a little research of your own, I've also done a lot of the hard work for you!
In my work as a sleep coach, these have become my top three recommended sites for baby sleeping bags in Australia:
ErgoPouch Australia
ErgoPouch make natural fibre, premium, ergonomically designed sleepwear and sleep solutions for babies and kids TOG-rated for warmth. Their baby sleeping range spans newborn baby sleep sacks to sleeping bags and apparel for six-year-olds and cover every single design you could need – including long sleeve baby sleep sacks and sleeping bags for every climate.
Love to Dream
Love to Dream has set up their range of sleep solutions so you can shop by age range and development stage – meaning you'll be recommended the best products for exactly where your baby is at. Their comprehensive sleepsuits and sleeping bags include newborn baby sleeping bags, infant sleeping bags with sleeves, with detachable sleelves and without sleeves, and sleepsuits.
Purebaby
Purebaby is an Australian owned company creating unique, organic clothing for babies and children, including a full range of infant sleeping bags. Made from organic cotton, their range is designed to be safe, secure and sustainable. Their range includes newborn baby sleeping bags and baby sleeping bags with sleeves and without.
Do You Need Help With Your Baby Or Toddlers Sleep?
I am a highly experienced baby sleep consultant with a unique educational and healthcare background.
Click Below NOW to book in a free chat with me I would love to see how I can help!
Best Baby Sleeping Bag for Winter
Again, it's important to do a little research for you and your baby, but my personal recommendation for the best baby winter sleeping bag is:
ErgoPouch Australia Jersey Sleeping Bag 3.5 TOG: This baby winter sleeping bag ticks all the boxes. It has a high TOG rating, meaning it'll keep baby nice and snug, along with comfortably cuffed long sleeves. It's also made from super soft organic cotton.
Best Baby Sleeping Bag for Summer
And when it comes to the best baby summer sleeping bag, my personal recommendation is:
Purebaby Sleeping Bag Bundle 1 TOG: This baby summer sleeping bag bundle comes with a sleeveless baby sleeping bag with a very light TOG rating and a long-sleeved baby suit for added warmth when needed. Made from organic cotton and completely machine washable, it's the perfect set for warmer months!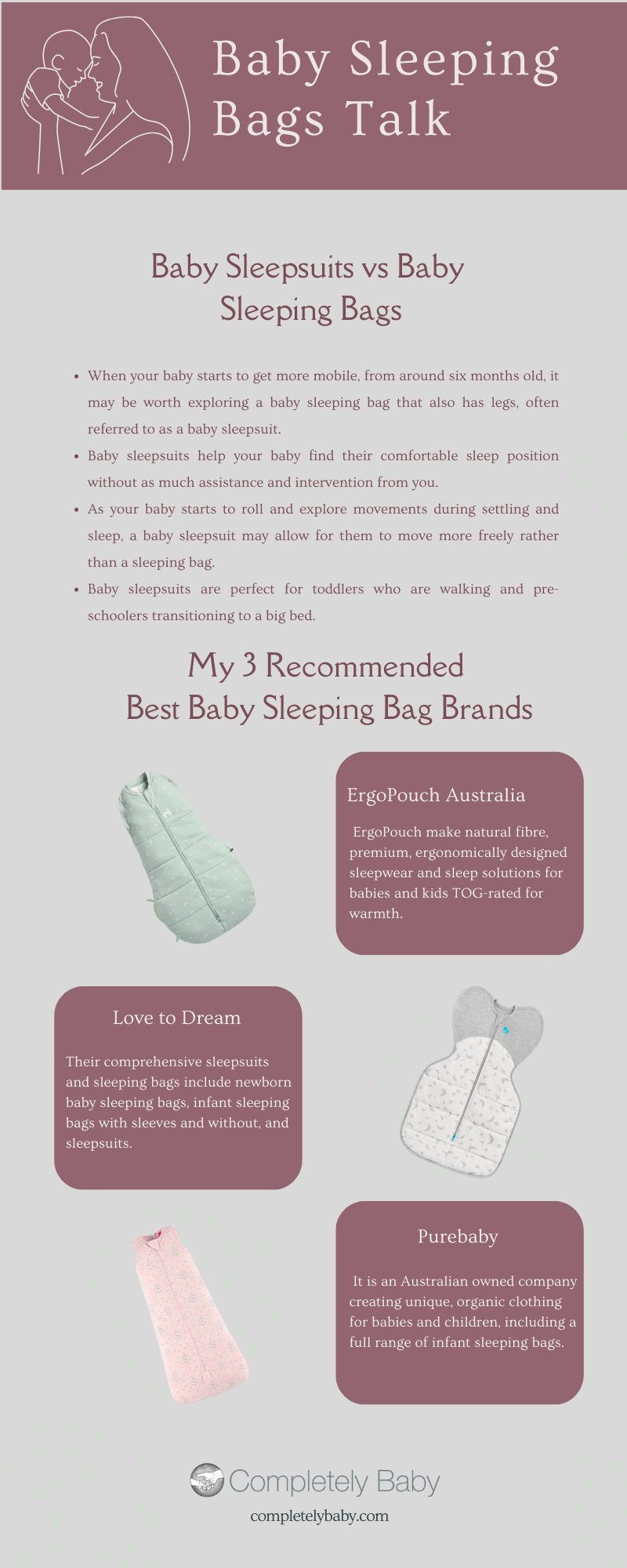 Sleep Guidance FAQs
What age can babies use sleeping bags?
Baby sleeping bags are available for newborn babies, although you can wait until your baby is a few weeks old before moving away from swaddling. I recommend transitioning to a baby sleeping bag around 6-8 weeks old.
What TOG sleeping bag should I use for my baby?
The TOG (Thermal Overall Grade) you choose will need to be appropriate for the current climate. A low tog rating (of say 1) is ideal for summer and warmer months. In the colder months, you will want to move to a sleeping bag with a TOG of 2.5 or 3.5to help keep your baby warm and snug.
How long should I use a sleeping bag?
I recommend using a sleeping bag up until your baby starts to become more mobile. Once they take their first steps, you can move to a baby sleepsuit with separate legs to help your baby with their mobility and get comfortable while they sleep. These can be used up until your child turns six if they're happy.
Where to From Here?
Once you start Googling and reviewing what's on the market, it's easy to start feeling overwhelmed – but don't panic! The guidance above will help you know what you're looking for and how to make the right choice for you and your baby.
And if you're still feeling unsure, that's exactly what I'm here for!
Book a completely free chat with me via here today, and let's help your baby on their way to better sleep.
Related Tag:- Sleep Consultant Newborn