Having your baby sleep in the same room with you, either in a cot, a bassinet, or a co-sleeper safely attached to the adult bed, is an easy option for many parents. It allows them to get to their baby quickly for nighttime feeds and to soothe restlessness. As your baby grows, the next big question on many parents' lips is when should babies sleep in their own room?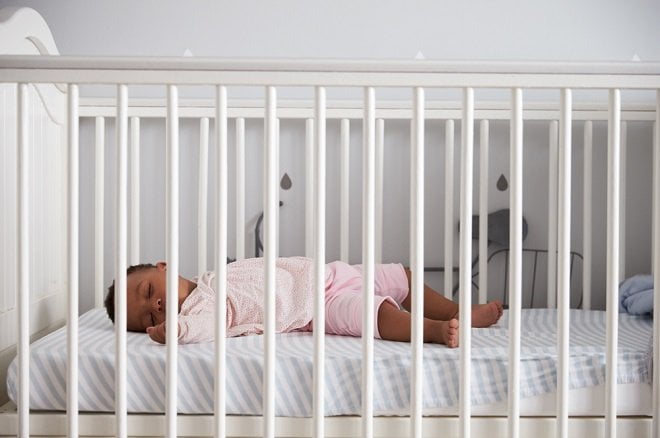 It's a great question to explore, so you can know how to transition your baby from shared sleeping to solo-sleeping safely. It's advised babies sleep in their parents' room for at least their first 6-12 months. But like most things to do with babies, it's more nuanced than that.
Understanding Safe Sleeping
The safest place for your baby to sleep during their first months is in their own safe sleeping space (a cot or a bassinet) within the same room as you.
Room sharing at this age has been shown to reduce the risk of Sudden and Unexpected Death in Infancy (SUDI). The term SUDI refers to sudden and unexpected death cases in infancy, including SIDS (Sudden Infant Death Syndrome). Research has shown that babies under six months old are at a greater risk of SUDI for both day-time and night-time sleeps when they sleep in a separate room from their parents.
Safe sleeping recommendations focus on reducing the risk factors associated with SUDI. These recommendations also provide guidelines for how long babies sleep in their parents' room for. They include:
Sharing the same room with your sleeping baby during their first 6-12 months.
Checking on your baby regularly during both day-time and night-time sleeps.
Placing your baby on their back within their safe sleep space for sleep.
Ensuring your baby's head and face are not covered while they sleep.
The shared-room should be a smoke-free and safe environment.
Sofa-sharing for sleep should be avoided as it increases the risk of SUDI.
How Long Do Babies Sleep in Their Parents' Room For?
When it comes to answering when to begin your baby sleeping in their own room – there's still a lot to consider.
Many baby sleep expert and psychologists recommend that you room-share until your baby is between 4 and 6 months old. Studies have found that room-sharing beyond nine months is associated with less and lower quality sleep.
After this time, babies are more aware of their surroundings. Being around mum and dad when they wake in the night can lead to sleeplessness as they become distracted and eager for your attention.
3 Benefits of Room Sharing
Many parents wonder when should babies sleep in their own room, and some will be keen to start their baby sleeping in their own room when it's appropriate. All parents want to make sure their baby is as safe as they can be, so it's a decision that can feel fraught with worry.
Aside from significantly reducing SUDI, there are other benefits to room sharing with your baby during their first six months:
Benefit 1 – You can respond quickly to your babies' needs in the night
Whether they're stirring and restless, or crying to be fed, having your baby close by during these crucial developmental months allows you to address their needs quickly.
Benefit 2 – It offers you peace of mind and the ability to check on your baby easily
New parents naturally worry about their babies. Having them share a room with you means you can get peace of mind and check on them if those anxieties start to creep up, which can also help you get a better night's sleep.
Benefit 3 – Promotes emotional connection and closeness
Having your baby close by for sleeping can help you learn what their different cries mean, which in turn means you can address their needs quickly. Having their needs met promptly helps your baby to feel safe and secure and promotes a stronger emotional connection between the two of you.
What's the Difference Between Room Sharing and Co-Sleeping?
Co-sleeping is different from room sharing. This is when parents have their baby sleep in the same bed instead of their own sleeping space. Co-sleeping is not advised as it can significantly increase the risk of SUDI.
Co-sleeping may lead to other issues with your baby and their sleep, including difficulty when getting babies sleeping in their own room at a later age, and risks of the baby rolling out of bed. It can also impact parental intimate relationships, and parental sleep too.
For parents who feel co-sleeping is their only option, the same general sleep recommendations apply, and it's also important to:
Let your health professional know you are co-sleeping; they can provide you with the best guidance for keeping your baby safe.
Understand that sleep is only one component of a happy baby. Having them sleep on their own won't result in poor psychological health in the long term.
Speak openly with your partner about your sleeping arrangements and find the best way to make it work for the whole family.
How to Transition Your Baby to Sleep in Their Own Room
Knowing when babies should sleep in their own room will be something parents need to decide works best for them and their baby, taking all the health and sleep safety guidance into consideration.
When the time does feel right, it's essential to have a plan that helps this transition happen as smoothly as possible.
Here are my top five tips to make that happen:
Introduce your baby to their new environment – During the day, familiarise your baby with their own room through playtimes, feed times, story time and nappy changing.
Start with a few day-time naps in their own room – Aim for one day-time nap in the lead up to their full transition. This helps them to feel safe and familiar with sleeping in their own space.
Match the sleep environment as much as possible – To begin with, keep your baby in the cot or bassinet they're used to sleeping in, but place it in their own room for sleeping. Move them into their crib over time.
Stick to your baby's normal sleep patterns– Keep all other patterns the same. You can also move their bedtime pattern to their own room (changing, feeding, cuddling etc.) but still room-share. This again, helps your baby associate their space as a safe place for sleep.
Remember: Babies adjust better than we expect usually – It's completely natural to feel anxious about this significant change as a parent, but remember that babies adapt quicker than we give them credit for. Be prepared for your worries and talk them through with a partner to create a plan to manage them.
Sleep Guidance FAQs
Do babies sleep better in their own room?
Answer: Each baby and family is individual, be guided by your babies temperament and capabilities. Use the guidelines to help you make an informed and safe decision that works best for you and your baby.
Can a 2-month-old sleep in their own room?
Answer: As per the SUDI and SIDS guidelines, the earliest when a baby should sleep in their own room is from around six months old.
Why do babies sleep better in parents' bed?
Answer: It's natural that your baby will want to be close to you; it helps them feel safe and secure. Falling asleep on their own is a learnt skill that you can help develop during these early stages.
Next Steps
It's essential to remember when wondering when should babies sleep in their own room, every baby is different, and every parent is different. If your sleeping arrangements are working for you and everyone's feeling content and rested, that's great. Keep in mind that transitioning older toddlers who are used to room-sharing and co-sleeping can be a lot harder, so make sure you consider the long-term as well as the short-term!
If your current sleep arrangements aren't working and you're struggling with your baby sleeping in their own room, I can help. Book your free chat with me today and let's help your baby on their way to better sleep.