Introducing a selection of essential products to ensure the well-being and safety of your little ones. From reliable thermometers to help monitor their temperature, to nasal sprays and aspirators for congestion relief, and a comprehensive family first aid kit for those unexpected emergencies, we've got you covered.
Invest in these essential products to create a safe and nurturing environment for your little ones, ensuring their health and well-being are always a top priority.
My Top Recommended Medical Products
Braun ThermoScan 5 Ear Thermometer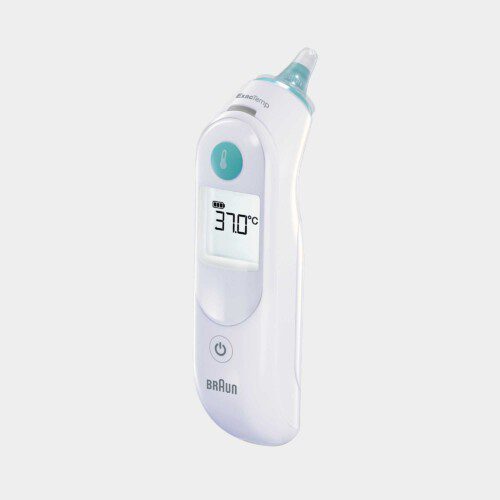 If there's one thing you need on hand from the moment you bring your bundle home, it's a trustworthy thermometer. Their first temperature is always a little nerve-wracking, so you want to have a device up to the task of keeping you informed. Having used tympanic thermometers as a Children's Nurse, it's worth the price point here for this Braun ThermoScan 5 Ear Thermometer! Believe me when you're taking your baby's temperature it's usually because you suspect they are unwell. What you need at this time is something quick and reliable to give you results. This does just the job.
The Braun ThermoScan 5 Ear Thermometer comes with plenty of handy features, including a colour-coded display to help you easily read and interpret results, a unique positioning system, memory recall and a handy nightlight for those middle-of-the-night emergencies.
LittleFess - Nasal Spray & Aspirator
Fess Nasal Spray
Nasal spray is one of those handy things that you are likely to have very limited experience with before having kids. Of course, along comes your little one and you'll be grabbing hold of this Fess Nasal Spray bottle at the first sign of congestion. There's nothing worse that swaddling your bundle and lulling them into a peaceful rest with a blocked nose. As you might expect, babies aren't capable of clearing this on your own and they will let you know about it.
Recommend using before feeding and sleep time to ease congestion, so your little one can fall asleep comfortably without a worry in the world. The gentle saline solution loosens and thins mucus so your little one can breathe easier – and it can be used from the day you bring them home.
Fess Aspirator
Believe it or not, blowing your nose is an art that takes a while to learn. Once you have children, you will never take it for granted again. It will be a little while until you can teach your little one to blow their nose. Until then, this aspirator is sold with Little Fess and is quite literally a game changer when it comes to congestion. I suggest using this one particularly just before feeds and sleep time, and just after use of the Little Fess saline spray. It's a winning combination for a great night's sleep for all.
Of course, it does take a little getting used to. This Fess aspirator chas a rubber bulb syringe with a soft tip that has been designed to gently suction mucus from your baby's nose. With just a little practise you will be clearing your little one's nose in no time and everyone will be happier for it.
Safe Sprouts - Family First Aid Kit
If you don't already have a first aid kit floating around your place, then it's time to head out and buy one. You never know when it will come in handy, but it's good to have at all times. I am a huge fan of this Safe Sprouts Family First Aid Kit. There's no need to fish around in the hopes of finding something useful, or make your way through piles of products you have no clue how to even use. Trust me, we've all been there. It's the last thing you need in an actual emergency.
Everything has been popped into clever, colour-coded bags that you can grab on the run. After all, when an emergency calls, you need to act fast. There's six modules: Cuts and Grazes, Burns, Eye Wound, Trauma, Dressing and Bandage and Snake Bite. They are attached to the case by velcro so you can grab, run and pop back when you're done. Keep the packs at home, or bring them with you in the car. They are nice and portable, so you never have to be without them. It doesn't get much easier than this to keep the whole family nice and safe.