Introducing a collection of bedtime books that are not only captivating but also offer valuable life lessons for your little ones. From the delightful and soothing "Time for Bed" by Mem Fox to the heartwarming "Owl Babies" and the enchanting rhymes of "I See the Moon," these books create the perfect atmosphere for winding down and preparing for a restful night's sleep.
Make bedtime a cherished and meaningful experience with these books that engage, comfort, and educate your child, setting the stage for a peaceful night's sleep and emotional growth.
My Top Recommended Baby & Toddler Books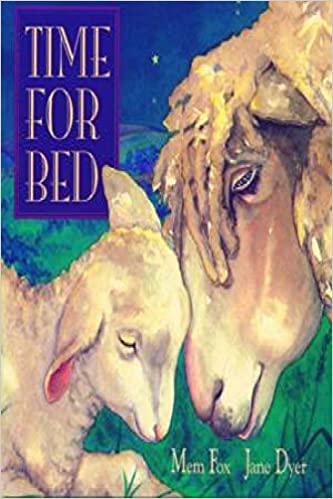 If you haven't heard of Time for bed by Mem Fox, then you're in for a treat. It's a delightful way to end the day with your little one, while also introducing them to different animals and preparing them for sleep. My girls loved this book as it says good night to all the animals. They had so much fun pointing out all the different animals, sharing their sounds and saying goodnight to them at the end of a busy day. We sure are animal lovers in our house, having grown up on a farm so I love that connection to nature with this one.
When it comes to the end of the day and trying to wind down for a peaceful night's sleep, nothing works better than a good book and a cuddle with mum or dad as you read together. Time for bed is written in rhythmic verse, helping to guide your little one into a restful state ready for sleep. After saying goodnight to all the animals, it's time to say goodnight to your little one! It will become a favourite in your family, as you read it night after night before drifting off.
Three little owlets wake up one night to find their mum is gone. Naturally, they all worry about where she could be and are over the moon when she finally arrives home after her night flight. Owl Babies is a gorgeous book and is so relatable for youngsters who wake during the night and worry when they are all alone in their room. It's a perfect, gentle way to let them know you'll always be close by if they need you, and come morning, ready to wake and play together again!
Of course, this book also relates to other areas in their life and helps with separation anxiety, from going to school for the first time to having a playdate with friends. The moral of the story: Mummy will always come back. It's such a lovely message to send your little ones off to sleep at night, knowing that you're close by. Each of the owlets in the story also has their own personality, helping your little one find which one they relate to as they snuggle up in your lap to enjoy this beautifully written and illustrated book.
If there's one thing that's guaranteed to lull your little one off to sleep, it's a gentle rhyme. I See the Moon offers up a whole collection of nighttime rhymes that are sure to do the job. You can just pick one or two each night to ejoy a little variety. My youngest has developed an association with sleep time and this gorgeous book. Beautifully illustrated, children love rhyming verses and repetition. This book promotes opportunity for connection in spades!
While you enjoy some bonding time together, your little one is also learning without realising. Rhyming is not only fun, but also helps teach words, sound and language formation, which is so essential in those formative years. Repetition is equally as important in developing those early literacy skills, creating secure foundations for future learning. Who knew storytime could be so comforting and beneficial and with I See The Moon by Rosalind Beardshaw it is exactly that.
Tip: Audio Book versions are also a lovely alternative for the older toddler or preschooler. Pop them on for rest time or during quiet time before sleep.
How Does Your Body Feel? Boxset
Emotions are important. I think many of us parents these days can agree that there wasn't a big focus on emotions as we were growing up. In fact, they were often stifled and pushed below the surface. As a result, the next generation are definitely raising emotionally aware children, who are not only in tune with what they are feeling, but can acknowledge and act on these feelings. It's a delight to watch!
It's no surprise that there are more and more resources becoming available to help parents in this endeavour. This 'How Does Your Body Feel?' the box set consists of four gorgeous stories created by founder and occupation therapist, Claire Joyce, to help families support their children who are experiencing big emotions. The books cover four emotions: calm, anxious, angry and sad. Each book features occupational therapy strategies and cognitive interventions to support families, offering up regulation tools they can draw upon when in need.
It's ideal to start reading these with your older toddler from the age of three years leading up to sleep time and at times across the day to support their emotional development.  Who knows, you might just learn a thing or two about your own emotions in the process!