One of these milestones many parents I work with get a bit stuck on is transitioning their baby from sleeping in a cot to a bed.
Do You Need Help With Your Baby Or Toddlers Sleep?
I am a highly experienced baby sleep consultant with a unique educational and healthcare background.
Click Below NOW to book in a free chat with me I would love to see how I can help!
In this article, I'll give you some key advice on when is a good time to start this transition, along with some top tips on making it as smooth and easy as possible.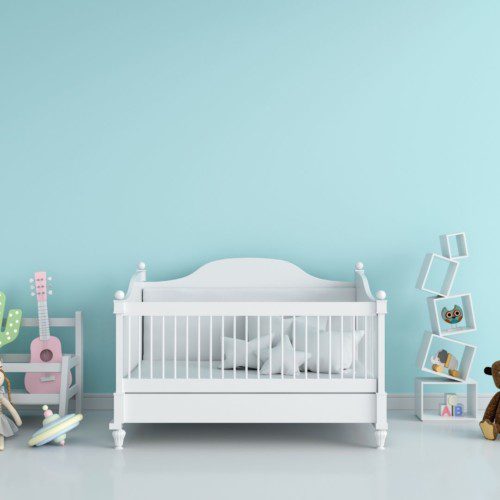 What Age Should I Transition From Cot to a Bed?
Many babies start to signal they're ready for this next step between eighteen months and three years old – give or take.
While there's no set age, the best age to transition from cot to a bed is around two years old. They should have a robust sleep routine and be big enough to stay safe while sleeping in an appropriate toddler or single bed by this age.
There's no hurry on this, and it's essential to ensure you start the transition once your child indicates they're ready.
How Do I Know My Child is Ready to Transition From Cot to a Bed?
This decision can be very personal, but some indicators I look out for when helping parents with this include:
Your child has started climbing out of their cot during the night, putting them at risk.
Your child has started or completed toilet learning, and a bed will make it easier to get them to the bathroom in the night when needed.
Your child has been sleeping in your room in their cot, or perhaps in your bed, and you're ready to support them to sleep in their own space safely.
Your child has physically outgrown their cot or is on their way to outgrowing it!
Whatever your motivations, make sure you don't rush your child before they're emotionally and physically ready.
What Safety Precautions Do I Need to Consider?
A big worry for many parents is keeping their child safe while they make the transition from cot to bed – and it's worth spending a little time thinking about this one. Your child will have more freedom of movement with a bed, so it's a good idea to cover your bases.
I've split some safety considerations into two categories: the environment and the bed itself.
1 – Creating a safe environment
When transitioning from cot to bed, do a little scan of your child's environment. If they're can get out of bed easily, you may want to consider a few things (if you haven't already). For example:
Do You Need Help With Your Baby Or Toddlers Sleep?
I am a highly experienced baby sleep consultant with a unique educational and healthcare background.
Click Below NOW to book in a free chat with me I would love to see how I can help!
A child gate on their door or at the top/bottom of any staircases – depending on where their bedroom is located – so they can't access other parts of the house.
A nightlight in their bedroom and/or hallway – so they can see their way if they do get up for the toilet or to find you.
Ensure their room is clear and clutter-free, as much as possible – check for any rogue wires, chords, or other hazards that you may not have worried about previously as they were confined to their cot.
Ensure medicines, cleaning products and anything else hazardous is kept safely out of reach or use child-safety locks so they can't get into cupboards if they get up in the night.
2 – Choosing and creating a safe bed
Breaking down this transition can help with safety overall. For example, you might want to start with a single mattress on the floor initially, so your child can get used to sleeping without any guard rails and then transition them to a full bed. Or you might use a toddler bed. Toddler beds are cots that can be turned small beds when your child is ready. They're a great way to help them transition.
Other safety considerations include:
You'll need a firm, comfortable mattress and no pillows just for now. Pillows can be a suffocation risk, so hold off until your child has gotten used to sleeping in their bed.
When they're ready, choose a pillow that's the right size for your child, keeping their head and neck in line with their back.
Position the bed so that only the head of the bed touches the wall. Keep the sides away from any walls for now, as this can pose a suffocation risk.
Heavy blankets, quilts and doonas can also be a risk. If your child uses a baby sleeping bag, you may want to switch to a onesie style sleep-suit, so they have more movement. This can help prevent injuries if they fall out of bed.
6 Tips for an Easy Transition From Cot to Bed
This might all sound a bit daunting, but I promise it's not as scary as it sounds!
Any transition in your child's sleep routine is going to need a little bit of time, and with a calm, consistent approach, you'll set you and them up for success. Here are a few of my top tips to help with this:
Tip 1 – Make a Plan
Pick a day for when you want to start the transition from cot to bed and begin talking about it with your child. This can help them prepare for change and help them gain encouragement and support from you in the lead-up.
Tip 2 – Make the transition at naptime
Try to avoid their first time with their new bed being at bedtime – this might be too much for them to experience a positive association. It's always worth practicing and experimenting with this during the day first.
Tip 3 – Involve your child
Give your child a chance to be involved; this could be with something as simple as picking some new bedsheets or new pyjamas to wear on their first night in their new bed.
Tip 4 – Trial new sleepwear in their cot before the transition
If you're also transitioning your baby from a sleepsuit or sleeping bag to a blanket and/or onesie-style pyjamas, make this transition in the cot first so they get a chance to get used to it. This should help with moving to a bed too.
Tip 5 – Stick with their routine
Although you want them to feel encouraged about their new bed, make sure they still have their routine in place so they know it is still a time for sleep and calmness. Disruption to the routine could lead to challenges getting them to sleep.
Tip 6 – Stay calm & consistent
It's natural to feel a little worried about such a big transition, but staying calm is important. Your child can pick up on how you are feeling. Your child is likely to spend the first few nights getting up and out of bed. Again, stay calm and consistently return them to their bed. Gently let them know it's sleeptime and give them a few moments to calm down and try again to sleep.
What Sleepwear Should I Consider to Support Their Transition From Cot to Bed?
You should consider what works best for you and your child, but my top recommendation is the Ergopouch Sleep Suit Bag.
This great little bedtime outfit is a sleeping bag that converts into a sleep suit with legs with a zip that joins or unjoins the legs of the sleepsuit together. It's perfect for the transition from cot to bed, offering warmth, comfort and safety all in one.
If your child is used to sleeping in a sleeping bag, this sleepwear can aid the transition.
Transitioning From Cot to Bed FAQs
How long does it take to transition from cot to bed?
There's no set timeframe on this one, and every child is different; some may take to their new bed straight away, others will need some support. It's okay if your child takes a little longer to get to sleep or wakes in the night. Stay calm and consistent, and they should settle in time.
At what age should you transition from cot to bed?
I recommend starting this transition when your child is at least two years old, but make sure they're ready first. It's okay to wait if your child needs more time. Safety is your biggest indicator here. Refer to the red nose guidelines here.
Do You Need Help With Your Baby Or Toddlers Sleep?
I am a highly experienced baby sleep consultant with a unique educational and healthcare background.
Click Below NOW to book in a free chat with me I would love to see how I can help!
Can I put a one-year-old in a toddler bed?
While every child is different, this might be a little too early to begin this transition. Some children are ready from around 18 months old, and I suggest waiting until they're at least two before making the transition.
Can a two-year-old sleep in a single bed?
As long as you consider appropriate safety precautions, there's no reason why your two year old can't transition to a single bed. I would highly recommend starting this transition with a toddler bed, as it will offer you a greater sense of safety.
Next Steps
Any transition around your child's sleep routine or environment can be tricky, and my top advice is to make sure you go easy on them – and yourself! It's okay if you need to take a step back and try again if it turns out your child isn't ready.
And if you think they are ready but want an extra helping hand to make this transition go as smoothly as possible, that's exactly what I'm here for.
Book a completely free chat with me today, and let's help your baby on their way to better sleep.
Related Tag:- Baby Sleep Consultant Sydney